Duke of Edinburgh Award
The Duke of Edinburgh Award Scheme at Homewood
Here at Homewood we offer the Duke of Edinburgh at all three levels, Bronze in Year 9, Silver in Year 10 and Gold in the Sixth Form.
The Expeditions
School staff and other volunteers deliver the training and supervise the expeditions.  The initial training takes place during Term 1 where students will form their teams of between 4 and 7 and carry out team building exercises along with introducing students to campcraft, cooking, navigation, country code and first aid.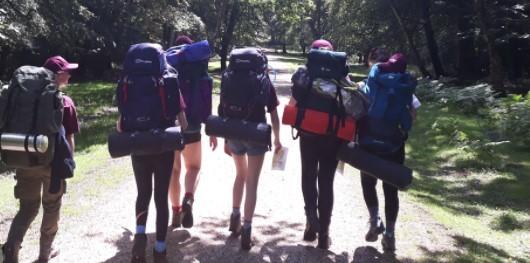 During Terms 2 and 3 students focus on completing their other three sections, volunteering, skills and physical.
Following training, between Terms 4 and 6, students learn route planning and carry out a practice expedition of the required level and duration. Teams will then plan and carry out an assessment expedition, where assessors will either pass or defer a team.  If deferred, teams will have another opportunity during term 1 of the following year.
For both the practice and the final DofE expeditions teams are unaccompanied but remotely supervised.  This means that students do not have an adult with them for most of the expedition.  Each expedition team carries two mobile phones for emergencies so they can reach their supervisor.  We train students about what to do if an incident arises. We use campsites that provide drinking water, toilets and showers.  They will need to drink plenty of water. For Bronze and Silver, we generally meet every team at least once during each day with additional water, as well as every morning and evening. We will be camping on the same site to provide pastoral support where needed.  At Gold level, students will be more self-sufficient as they will be journeying in wild country where road access is limited.  They will use natural water sources such as streams, with water purification tablets as necessary.
A list of equipment and clothing required for expeditions will be available on google classroom once students are enrolled.