Reporting and Assessment
Reporting and Assessment 2022-2023
Assessment can be seen as the bridge between teaching and learning. Dylan Wiliam describes this well:
"It is only through assessment that we can find out whether what has happened in the classroom has produced the learning we intended."
Our approach to Assessment has two layers:
Formative – on-going, ungraded and focused on smaller chunks of the curriculum
Summative – at set points in the year. Knowledge included will build cumulatively
through the year
Marking and Feedback
Departments develop their own policy using a tight but loose approach. Tight in that they must adhere to the principles but loose in that they tailor assessment, marking and feedback to their subject domain.
1. Feedback should be used to identify the 'learning gaps' of individual students.
2. Feedback should be specific and clearly focused on learning goals – with a view to moving on the learning of individual students.
3. It should also focus on what students achieve and take pride in – so they continue to do so.
4. Students must be able to, and expected to, respond to the feedback, so they can work towards closing the learning gap.
5. Feedback can take a variety of forms – teacher to student; student to teacher; student to student; written and verbal; focused on classwork, homework and assessments. All are equally valid.
6. Different forms of feedback will be more appropriate for different subjects. Subject areas will agree and decide on how feedback is consistently used across the subject.
7. Feedback is not an add on. It is an ongoing and essential part of excellent pedagogy, used to deepen learning and improve teaching.
8. Feedback should be challenging – and used to encourage students to aspire to excellence.
9. Feedback should be high impact but manageable and sustainable and used to inform planning and teaching
10. Students should receive a minimum of two bits of formal teacher feedback per term.
Reporting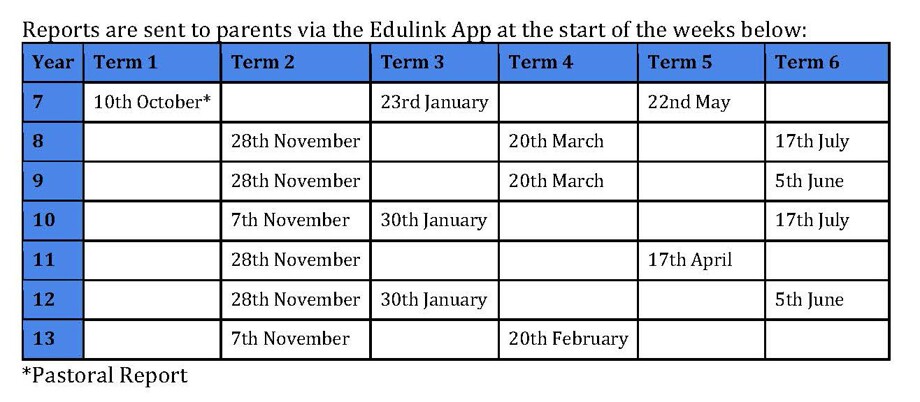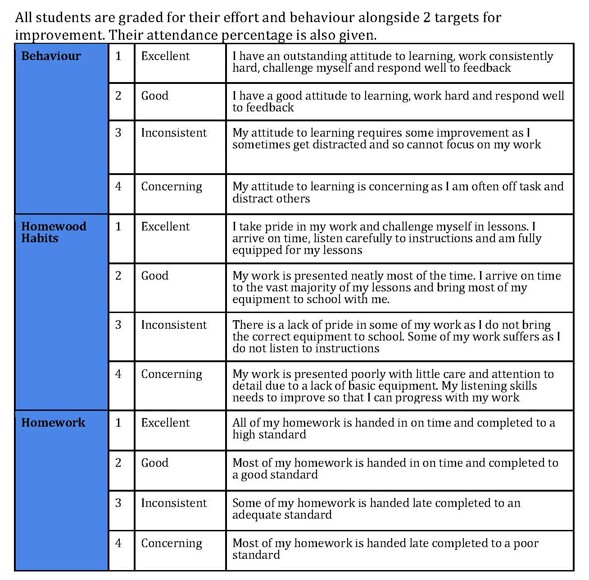 Year 7-9 Reports
Year 10 and 11 Reports
Year 12 and 13 Reports