Work for Us
Thank you for your interest in joining the team at Homewood School & Sixth Form Centre. The following information will give you a flavour of our ethos and vision, and the opportunities available at the school for students and staff. We would be delighted to receive an application from you if you would like to be part of our enthusiastic, committed and innovative teaching and associate staff team.
Homewood School & Sixth Form Centre is a mixed 11–18 wide-ability school with Academy status with 2000 students including 350 in the Sixth Form. We are part of Tenterden Schools' Trust working in collaboration with local primary schools serving the Wealden town of Tenterden and the surrounding villages. The school is situated on the edge of Tenterden and enjoys a large semi-rural site overlooking open countryside.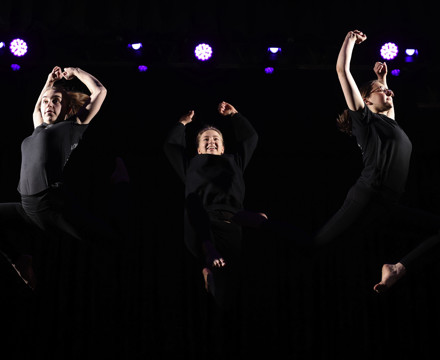 Homewood has excellent facilities for all its students and our particular specialisms in Performing Arts, Applied Learning and the Rural Dimension underpin our approaches to learning which are designed to raise achievement across the whole student body. We aim to maintain and develop the cultural aspirations of the school community in line with our priorities of 'belonging' and 'respect' and offer a broad range of curriculum opportunities in all subject areas.
This also extends into the local community through partnerships across primary, secondary and higher education sectors as well as non-educational community partners.
The school is divided into five Communities: Endeavour, Fortitude, Pioneer, Quest and Voyager. In each Community there are either two or three tutor groups from each year group (Years 7 to 11). After Year 11, it is anticipated that students will join our successful Sixth Form Centre for Years 12 and 13. To meet the needs of all learners, we have launched a Grammar Plus Stream to develop our most academically able students.
Across all of the Communities, our aim is to support and develop the whole child to deliver a holistic education, we build intrinsic motivation and resilience, confidence and skills for life together with a passion for lifelong learning and development.
Specialist facilities at Homewood include The Sinden Theatre, a purpose-built community theatre (where students can take up one of many aspects of Performing Arts,) designated dance and drama facilities, a radio studio, beauty salon and the Balcony Restaurant where students learn how to cook and serve food for the paying public at a professional level. We also have a fully-working farm where students help to care for animals and produce food.
There are a large number of clubs and extra-curricular activities ranging from Jazz Band to Warhammer and we run a huge number of trips and visits to local and international venues. Homewood also takes a very active part in Duke of Edinburgh and World Challenge. Through these initiatives, plus the many other links made by the school, we aim to enable students to discover their true potential in all areas of the curriculum and beyond.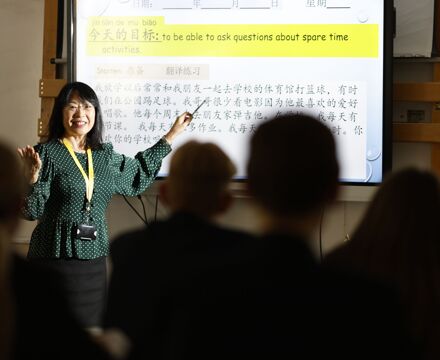 At Key Stage 3, students study a full range of subjects including Dance, Drama, MFL (including the opportunity to study Mandarin), Humanities and ICT. We focus on building strong foundations for future learning and encourage a mastery approach with an emphasis on high-quality work and exhibition. In Year 10, students begin GCSE options; following a range of learning pathways that complement a Core Curriculum consisting of English Language, English Literature, Maths, Double Science and PE; all students can also follow Vocational courses from the exceptionally broad range of choices. Key Stage 4 courses are completed in 2 years and then students continue their personalised learning pathways into the Sixth Form with a programme selected from A Levels and Level 3 BTECs. An exciting range of courses at all levels exists in the highly successful Sixth Form which attracts a large majority of Homewood students to stay on and a significant number of students from other schools.
Formal assessment takes place on a termly basis and progress is tracked with clear achievement grades and targets which are regularly reported to parents. A detailed analysis following each data-drop supports precision teaching and targeted intervention to support student progress. Staff training focuses on the development of high-quality teaching. Time is provided each week to facilitate joint planning and moderation of assessment in and between departments and with our primary partners.
There is a personalised approach to Careers Education, Information, Advice and Guidance and in Year 9 and Year 11 when crucial options decisions are made, all students and parents receive individual advisory interviews with key staff. Guidance is embedded across the curriculum and activities focused on career development are supported by the Form Tutor during tutor time and Focus Days. Work Placement experiences are provided throughout the students' time at the school and all students undertake individual work experience in Year 12. We work in partnership with our parents, who are invited in to meet tutors and teachers on our Consultation Days and encouraged to attend the many events and exhibitions which take place throughout the year.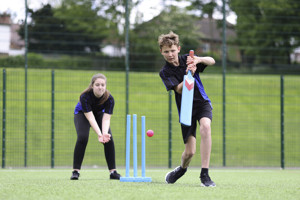 Homewood provides a secure and caring learning environment in which all students can flourish and succeed. It is a school renowned for its support for students' wellbeing. Heads of College provide academic and pastoral leadership for the students in their Communities, supported by dedicated Form Tutors, a Family Liaison Officer and Assistant Head of Community. A range of other staff including counsellors and a qualified nurse help and support the students through their time at Homewood. Consideration and respect for each other is central to our work and we are justly proud of our students' achievements.
I hope you will be inspired to submit an application to join us. If you are successful, you can be assured of a very warm welcome and a real opportunity to make a difference in the lives of the young people of this part of Kent.
Mr J K Single
Principal
Why work at Homewood School & Sixth Form?
We offer the following to our colleagues at Homewood School & Sixth Form Centre:
Teachers' Pension Scheme or Local Government Pension Scheme dependent on whether teaching or associate staff
Childcare Voucher Scheme
Retail, Health & Leisure Offers through Kent Rewards
Specsavers vouchers
Flu vouchers
Regular staff surveys – we review all responses and make changes
How can we help you? – we want to know how to improve your work experience; staff are encouraged to share their ideas
Regular recognition and praise, termly exceptional member of staff award
Seasonal events (including Christmas jumpers, World Book Day, staff choir, staff dance, staff trips and events)
Staff wellbeing programme with wellbeing sessions offered to all staff as part of CPD each term
Involvement in school and national research projects to help develop best practice
Free morning porridge
School gym
Opportunities to involve yourself in the wider school life, Duke of Edinburgh, Cadets, a wide variety of clubs, international trips and visits
Teaching & Learning
A commitment to rarely cover
Whilst teachers will follow a departmental scheme of work and resources are available to support this, delivery is in the hands of the teacher and they can adapt as they wish
A commitment to reducing workload – department marking to reflect the differences in subject areas but with a policy of only marking two significant pieces of work per term
Behaviour & Pastoral Support
Open-door Senior Leadership
An expectation that all staff address behaviour and work together to maintain high standards of behaviour from students
Homewood Habits – our expectations of behaviour and student readiness for lessons that all students are aware of
Visible Leadership on a duty rota, available throughout the day to support staff and behaviour across the school
Dedicated staff in Community offices to support with pastoral and behaviour issues